Rough vs. Smooth: Which Tile is Better?
There are so many elements to consider when choosing your tile: The color, the pattern, the size, the type, and even the grout. While these are all important elements, it is important that you also consider the texture of the tile. Whether you choose smooth or rough tile can have a big impact on the look and performance of your floor or backsplash.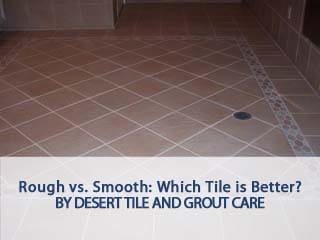 Here are a few things you need to know about how rough and smooth tile compare to help you make the best decision for your Gilbert, Arizona home:
Traction
Have you ever tried to walk across smooth, glazed tile in your socks? You probably slipped all over the place. Now imagine if that same tile was wet after you got out of the shower or you spilled a drink in the kitchen. You could have a disaster on your hands!
Textured tile has more traction than smooth tile. You will have more grip when you are walking, whether you have on shoes or you are walking in the slipperiest of socks. You can even feel safe walking on it when it is sitting under water. The more textured the tile, the more traction it will offer.
Textured tile is a much better choice for areas like the bathroom and kitchen where there will be water on the floor.
Cleaning
Smooth tile may be slicker under foot, but it is also easier to clean. You just have to run a sponge or a mop over it to clean off all the grime and dirt. That makes smooth tile a perfect choice for backsplashes and counter tops.
Textured tile is a little harder to clean thanks to all those nooks and crannies. The rougher the tile, the harder it will be to clean. You'll have to use a bristled brush to get into all the nooks.
Though textured tile may be harder to clean, it also hides dirt better than smooth tile. You won't notice dirt or discoloration on rough tile the same way you would smooth tile. The texture casts shadows that make the dirt and debris blend right in. That means that you don't have to clean the tile as often to make it look clean.
Of course, this might actually be a drawback for some. You may not be able to see the dirt, but knowing it is there may not be very pleasant for you.
Gilbert Tile Floor Restoration Services by Desert Tile & Grout Care
Aesthetics
The choice between smooth and rough tile is also one of personal taste.
Smooth tile has a glossier look that is more luxurious. Glazed tile looks even more sophisticated. Meanwhile, textured tile has a more natural look that some find more interesting and compelling.
Ultimately, you may decide to include smooth tile in places where you want a more upscale look, such as in your bathtub or shower, and you may include textured tile where you want more visual appeal, like your fireplace or entry way.
Temperature
When you are choosing tile for your floors, it is important to think about how it feels. Smooth tile often feels colder to the touch, which would be very unpleasant if you are walking across the floor in the middle of the night in your bare feet. During the hot, Arizona summers, that cool tile can actually be quite soothing if you are coming in from outside.
Textured tile is warmer and more inviting to most. You can use it throughout your home without any worries about how comfortable it will be for your family or your guests.
Whatever tile you choose, it is important that you keep it well-maintained to preserve its beauty and structural integrity. Desert Tile and Grout Care offers professional tile floor cleaning for your Gilbert home, as well as tile and grout cleaning for your showers, backsplashes, counters and more. We can provide routine maintenance cleaning, or we can provide deep cleaning that removes stains and rejuvenates your tile. We can make grout look like new again, and we can bring back the natural luster of your tile. We are experienced in handling all types of tile, and we have the tools and skills to get results. Call us today to get an estimate for tile and grout cleaning in your Gilbert, AZ home or business.
Published By:
2917 E. Park Avenue
Gilbert, Arizona 85234
Office: 480-288-4475
Website: deserttileandgrout.com
Posted:
June 22, 2016
Comments Off

on Rough vs. Smooth: Which Tile is Better?